NEW RUN 2023 - HOT OFF THE PRESS!
Our new run is in and ready to order NOW!
And it looks and tastes sooooo good!
We have decided to refresh and enliven our brand and packaging to make it more eco-friendly and beautiful. It's now composable and biodegradable. And as always we give 6 cents from the sale of each chocfish to the Whitebait Connection who link in with local schools and iwi to clean up NZ waterways. The perfect reward for a deed well done.
Thank you, Kia ora!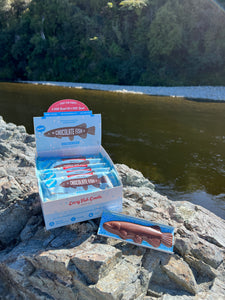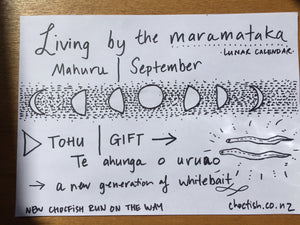 our new run of Chocfish arrives with a new generation of whitebait
Mahuru: September is the month whitebait spawn - and we have co-incided the release of our new run to be in sync with this natural phenonmena.
Ahhhh - there's nothing quite like fresh organic, fair trade giant kōkopu chocfish! Eat it as you please;
sandwiched, smores style, between fresh buttered white bread,
mixed into your hot chocolate drink,
baked into cookies and cakes,
head first, tails up into and/or melted with butter over icecream and banana,
perhaps just plain, shared (heads or tails?) or pure individual indulgence, on your own... with a cuppa or glass of vino rouge ... mmmmm.
A seriously delicious treat for a deed well done.
Every fish counts. Take the time to give thanks, and acknowledge deeds well done by friends, whānau, colleagues and communities.
Aotearoa:  Give that person a chocfish!  
Get the Tee-Shirt!

100% cotton Kiwi screen printed Chocolate Fish T-SHIRT $45.95 inc GST each. $1 from sale of each t-shirt goes to help save NZ waterways. Twin-up and give one to your bestie and yourself. All sizes, genders and personalities catered for xx Every Fish Counts. Buy online here!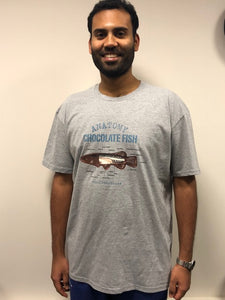 Get the Chocfish Thank You Pack - limited offer
---
THE CHOCFISH thank you pack deal
For a LIMITED TIME ONLY - here's the workplace reward deal for your staff and key customers.
Recognise and thank your staff, customers and clients with our delicious  fair trade, organic solid diary milk giant kōkopu chocfish.
x 4 boxes of 20 fish for $280 (ex GST and postage).  
Thats half the normal retail price. Which works out at $3.50 a fish - which normally retail between $6 - $9 dollars. That's 80 thank you's in a pack! Deal for businesses and charities.
Or you can catch individual boxes to send as thank you gifts - from our fish store below at the  bottom of our home page.
click here to catch this deal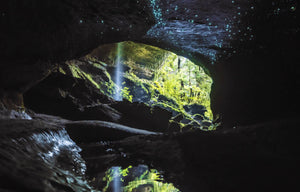 WFH or in the office?
Since covid, we have changed as people and businesses. Flexibility and mental wellbeing tops most lists these days. So whether you are working from home or in the office - your contribution counts. Give your team the recognition they deserve.  Give that person a delicious, sustainable, artisan Kiwi chocolate fish! Every person counts.
Sustainability - Every Fish Counts
---
Kia ora, thank you for a river full of memory
It has been great meeting new friends, gaining new clients and working with existing ones - all who share our sustainable values.  We thank you for your ongoing support and business.
A special thanks to Martin Heck of Timestorm Films for the generous use of his stunningly filmed video of New Zealand in our videos.  Give that guy a chocfish!  And we did - a whole box of 20 - and a t-shirt.  Thanks mate. 
A big chocfish thank you to Brendan and Mike Yates of Sumner, Christchurch NZ -  who's flamenco guitar playing brilliance features on our second video 'How to with Chocfish - Fair Trade Organic.' 
And a big chocfish shout out to both the Whitebait Connection and the World Fair Trade Organisation WFTO - for their respective ongoing hard and smart work setting standards and making the world a better place.
The Chocfish Crew at The Coffee & Chocolate Trade Show in Auckland. 
https://www.facebook.com/chocfish.co.nz/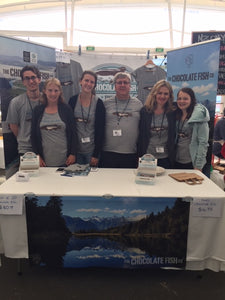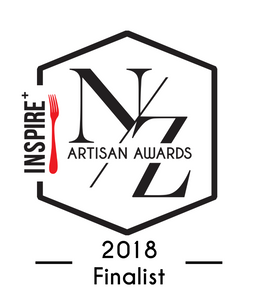 artisan awarded chocolate
The Chocolate Fish Co - finalist in The NZ Artisan Awards. A delicious reward indeed!!
our chocfish
Our solid diary milk giant kōkopu artisan chocolate fish is a delicious, sustainable reward given to someone who has made a positive difference in their workplace, community, school or anywhere else. If someone has done a good deed, great or small, give that person a chocolate fish. 
catch a chocfish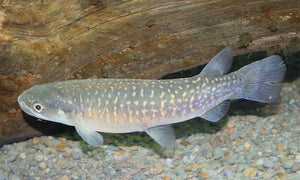 The Giant Kōkopu
Made in New Zealand, our solid dairy milk chocolate fish is modelled on the giant kōkopu. It's New Zealand's largest freshwater fish, and one of the five whitebait species, now endangered. Six cents from every fish goes towards saving New Zealand's waterways.                        For more see:
The giant kōkopu
our fair trade & organic chocolate
Our diary milk chocolate fish has been made with 40% fair trade organic cocoa beans from the Dominican Republic and Peru, and golden sugar from Paraguay, all sourced directly from farmer co-operatives  -  then lovingly mixed with Kiwi milk right here in New Zealand.  For more see:                                                  
Our Chocolate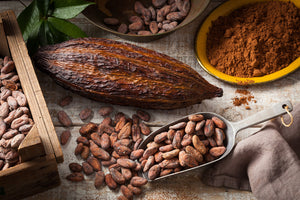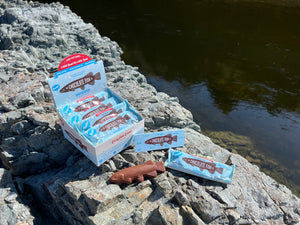 Eco-friendly and compostable
Our packaging is made from compostable flow wrap and biodegradable card. Like our chocolate fish, the packaging is made right here in New Zealand. We're 100% committed to making a product that not only rewards people who make a positive difference, but is also positively good for the planet, and for New Zealand.  For more see:
The giant kōkopu
Our fish can save a Native nz fish
Each time we sell a chocolate fish, we will donate 6 cents to The Whitebait Connection. This will help fund the Whitebait Connection's local community programmes, involve schools and local iwi, to clean up NZ rivers and waterways and draw attention to best practice. 
www.whitebaitconnection.co.nz                                           For more see: 
the giant kōkopu
sustainable work rewards: join the trend
---
Upgrade your luck
The good luck fish. The fish has long been a symbol,  and touchstone, of simple sustenance, prosperity, abundance, creativity, fertility, wealth, faith and protection in many cultures around the world. Upgrade your luck - eat and give good luck chocolate fish.  For more see:
Upgrade your luck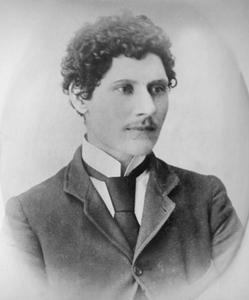 Inspirational fish
Fish of the day;
Richard Pearse, First to Fly.
This Kiwi farmer/genius built and flew the first 'heavier than air' aircraft to take off under its own power, on 31 March 1903 in Timaru. The bamboo and scrap- metal plane flew about 140 metres before it crashed into a gorse bush. Unfortunately, the flight was poorly documented, allowing the Wright Brothers to claim the first flight 9 months later on 17 Dec 1903.  Depiction on our home page above as imagined in the New Zealand mockumentary 1995 movie, 'Forgotten Silver.'  For more see:
inspirational fish
chocfishtory
A long time ago... in a galaxy far, far away called Aotearoa, the land of the long white cloud... there were no chocolate fish.  But this was about to change...                For more see:
chocfishtory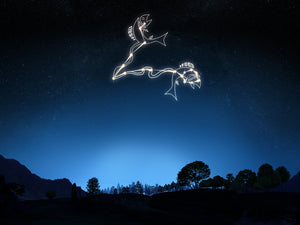 Visit 'The Fish Store' to Catch
Each purchase supports New Zealand waterways.
Every Fish Counts.
OUR NEW RUN IS READY TO ORDER!
Order wholesale by emailing bridgette@chocfish.co.nz
or call 021 606 708
Fish Store